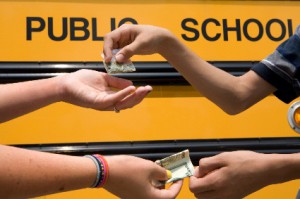 Statement of Steve Pasierb, President
New York, NY – The University of Michigan's Monitoring the Future study (MTF) – a highly respected annual survey on teen drug abuse tracking 47,000 8th, 10th and 12th graders – shows an increasing teen involvement with marijuana, particularly in daily use. Additionally, synthetic marijuana, widely known as K2 or spice, is gaining attention among high school seniors, with one in every nine reporting use.
The MTF survey also demonstrates that intentional abuse of prescription medicines among teens remains a significant cause for concern. MTF survey numbers remain unchanged despite the fact that, every day, on average, 2,500 teens use prescription drugs to get high for the first time. According to the Substance Abuse and Mental Health Services Administration, treatment admissions for prescription drug abuse skyrocketed an astounding 430 percent in 10 years, and the most recent data from Centers for Disease Control and Prevention reports the death toll from overdoses of prescription painkillers has more than tripled in the past decade. According to an analysis in the CDC Vital Signs report, among people 35 to 54 years old, unintentional poisoning attributed largely to drug overdoses caused more deaths than motor vehicle crashes. [1] An additional analysis by The Los Angeles Times ranked drug overdose deaths as the number one cause of death, exceeding the number of motor vehicle fatalities.
"The entrenched and dangerous behavior of intentionally abusing medicines demands a concerted and sustained national response in order to make meaningful progress. While there are myriad individual efforts occurring in industry, government and the nonprofit sector, the collective impact is insufficient to reverse the trend and reduce the damage being done to countless lives," says Steve Pasierb, President of The Partnership at Drugfree.org
Opposing Trajectories of Drug and Alcohol Use
In contrast to the negative survey results regarding marijuana and prescription medications, teen consumption of alcohol continues to decline with decreases in both overall use and binge drinking. In fact, from 1991 to 2011, the proportion of eighth-graders reporting alcohol use in the past 30 days of the survey fell by half.
"With cuts to prevention programs nationwide, we find the number of teens who perceive marijuana as socially unacceptable is in decline, which influences usage," said Pasierb. "An equally disruptive influence for children lies in the current, prominent public dialogue about marijuana's medicinal use, coupled with efforts to make it more widely available."
He adds, "The data on marijuana reflects a neglect of our responsibility as a society to maintain a robust prevention infrastructure for children and to give parents the information and the support they need to help their kids make healthy choices."
Parents Can't Take Drug Use Lightly
The data underscore again that parental and public attention to and communication about the health risks of alcohol and smoking have moved the needle in the right direction on those issues. Prevention efforts, such as those aimed at curbing alcohol abuse and those focusing on cough medicine abuse are working and gaining traction.
"We've seen the positive outcomes, when as a society, we pay attention to these issues – the numbers go down," said Pasierb. "We can see that happening now with alcohol and particularly, tobacco. Add marijuana, and these are the 'big 3' substances that kids are encountering. The fact is that one in four teens who start using drugs, alcohol or tobacco before the age of 18 will likely suffer significant harm from their use. So that same attention and awareness must be paid to teen use of marijuana. The numbers show a large proportion of kids are using, and many using every day, so the 'not my kid' mentality needs to stop — it could very likely be your kid, or certainly someone your kid knows."
Changing Prevention Landscape Means Parent Resources are Needed More Than Ever
Over the past several years there have been frequent and significant cuts to our nation's drug abuse prevention infrastructure in the hundreds of millions of dollars together with other cuts at the state and local levels. More recently, the only dominant and effective voice to children and teenagers about the risks of marijuana use, the National Youth Anti-Drug Media Campaign's "Above The Influence" initiative, saw its modest budget eliminated by Congress this year, even in the face of recent published studies documenting the effectiveness of the "Above The Influence" message to teens.
Pasierb closes, "Parents, and adults with a child in their life, do have extraordinary power to influence the decisions young people make. Fewer programs and less support for prevention all mean that getting through to teens now sits squarely and almost solely with the parent. We know active, open communication between parents and kids is the most effective prevention tool. We need to remain vigilant and parents who know their child may be using need to intervene."
For those parents who suspect their child is experimenting with drugs or alcohol, The Partnership at Drugfree.org developed the intervention resource tool Time To Act. For parents who are faced with a child who is struggling with substance abuse or addiction, the organization offers its Toll-Free Parents Helpline (855-DRUGFREE), coupled with Time To Get Help, a parent-to-parent website and online community that provides lifesaving information when families are in crisis.
To learn more about how to prevent, intervene in and find treatment for drug and alcohol use by teens, visit drugfree.org.
---
[1] Centers for Disease Control and Prevention, National Center for Injury Prevention and Control. Web-based Injury Statistics Query and Reporting System (WISQARS) [online]. (2010) [cited 2010 Nov 30]. Available from URL: www.cdc.gov/injury/wisqars